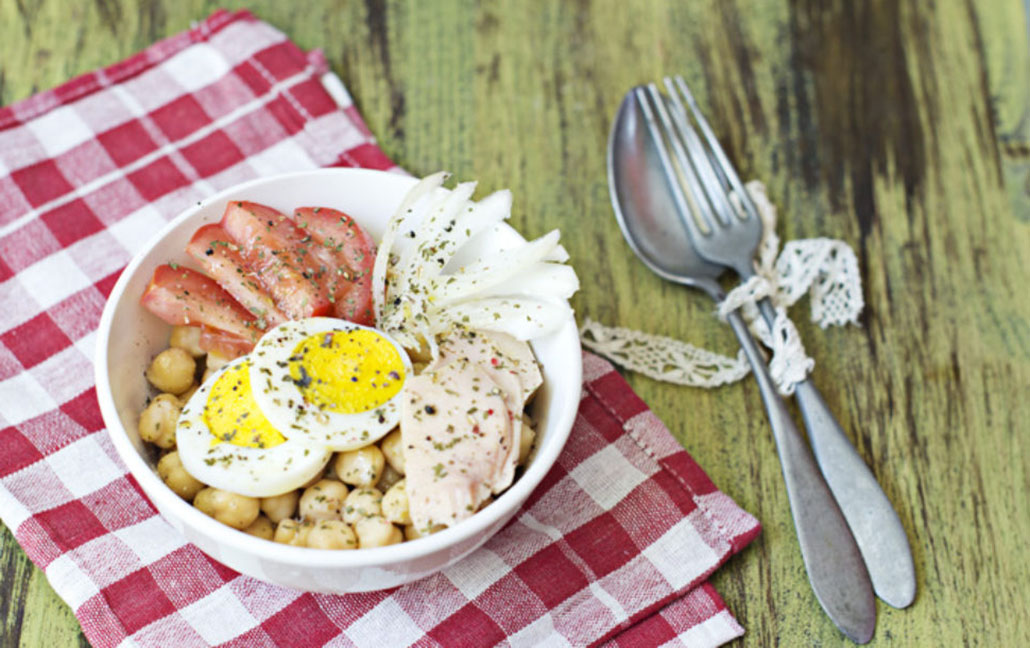 The white tuna, chickpea and egg salad is very easy to prepare and provides us with many of the nutrients we need. It includes legumes (chickpeas), fruits and vegetables (tomatoes, onions) and healthy proteins (white tuna and egg), making it a very complete dish.
Being a salad is usually served cold, although it can also be served warmly. This is a good way to eat vegetables on hot days and an alternative to traditional salads in summer, when consumption of this type of dish increases.
Recipe for white tuna, chickpeas and hard-boiled egg salad
Recipe for 4 people
Ingredients
1 White Tuna fillets in olive oil 450 glass jar
300 gr. of chickpeas
2 boiled eggs
2 tomatoes
1 onion
Extra Virgin Olive Oil
Pepper
Oregano
Salt
For this recipe we recommend you…
How to prepare white tuna, chickpeas and hard-boiled egg salad
Cooking the ingredients
When preparing the chickpeas, it is advisable to soak them the night before, as they will be soft for boiling. Remove the water from the soaking and put new water to boil in a pot. Add the chickpeas when to the water when it starts boiling and leave them to cook for 20-25 minutes. We can also use canned chickpeas and skip this step.
At the same time, we can use this time to cook the eggs for 10 minutes in another casserole. Then we let them to cool down in the fridge. When the chickpeas are ready, drain them and put them in a bowl. It is interesting to cover the container so that the chickpeas will not dry out.
Preparation of the tuna salad
To present the salad, we put the chickpeas in a bowl as a basis. On top of them, we put the white tuna loins, the hard-boiled egg, sliced tomato and onion.
Finally, dress the salad with olive oil and sprinkle a bit of pepper and oregano.
https://www.arroyabe.com/wp-content/uploads/2020/11/White-tuna-chickpeas-and-hard-boiled-egg-salad.jpg
648
1030
administrador_arroyabe
https://www.arroyabe.com/wp-content/uploads/2017/06/Arroyabe-logotipo-web-superior.png
administrador_arroyabe
2020-11-27 15:25:35
2020-11-27 15:25:36
White tuna, chickpeas and hard-boiled egg salad